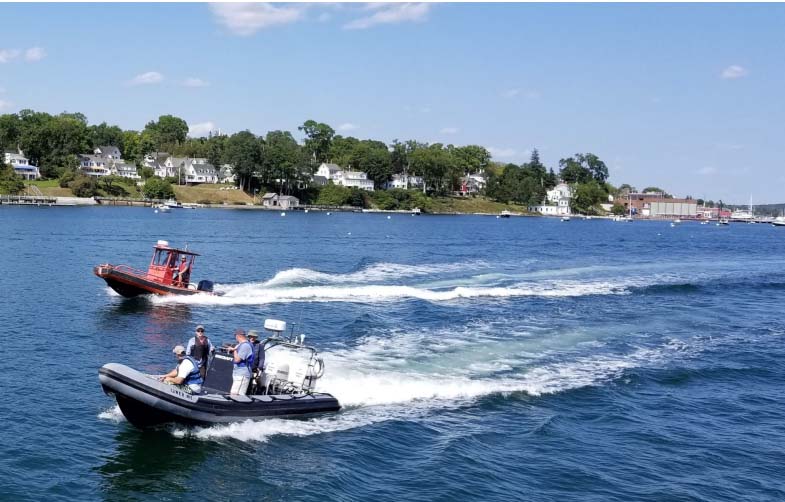 Maine Maritime Academy's Center for Professional Mariner Development (CPMD) continues to expand rapidly and flex to meet the training requirements of mariners and the maritime industry as the limitations of 2020 ease.
Enrollments in key USCG Standards Training Certification and Watchkeeping (STCW) courses have increased dramatically, and in the past 11 months CPMD has instructed over 800 mariners in more than 103 classes.
"CPMD rounds out our effort to provide a world-class education to our students," says Dr. William J. Brennan, President of Maine Maritime Academy. "Thanks to our state-of-the-art facilities and the excellence of our instructors, we are positioned to support professional certification needs across the spectrum, whether participants are just beginning their career or re-certifying after many years of experience."
The center offers online, hybrid, and in-person courses to meet both industry and individual needs. CPMD's regularly scheduled trainings and a-la-carte options are designed to accommodate the dynamic and demanding schedules of the maritime workforce. Building on Maine Maritime Academy's depth and experience, we have developed tailor-made courses for unique requirements such as geographic specific training and harbor pilot exam preparation.
CPMD has expanded both its instructor cadre and its simulation and equipment capabilities to meet the resurgent need in training. Of the 33 courses currently offered, skill-set-specialized instruction such as Fast Rescue Boat, Tankship Dangerous Liquids, Basic and Advanced Firefighting, Vessel Personnel with Designated Security Duties, The mission of CPMD is to meet the mariner's unique needs by offering a flexible schedule in a quiet and easily accessible location. Our professional staff will work with you or your company to secure a training plan to exceed
expectations.
Our offerings range from introductory courses like Fishing Vessel Safety, to advanced curriculum such as Inert Gas Systems and Crude Oil Wash, which provides a fundamental understanding of the shipboard systems associated with tanker operations. Fast Rescue Boat, where trainees learn to handle and take charge of rescue boats in adverse weather and sea conditions, is another popular hands-on course. This winter, we began offering tutorial classes for harbor pilots.
The Center for Professional Mariner Development continues its forward-looking expansion. A four-story, three burn room, live-fire training facility will be completed on-premises by the year's end. The live-fire facility will also support working at heights training. Cooperative ventures in offshore wind safety and autonomous smart vessel technology are also progressing quickly.
For a complete listing of courses, contact information, and registration information, please visit our website.